"My goal is to offer beautifully handmade memorable gifts, which will enable you to connect with those you love - using original artwork and soul-stirring inspirational messages - that will delight the eye and touch hearts for generations." - Mary Margaret Cannon
The SACRED SEASON® and PASSAGES™ Collections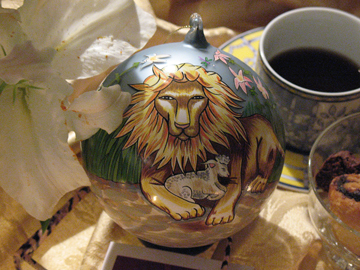 SACRED SEASON and PASSAGES are two distinct and beautifully hand-crafted original art collections from GLORIOUS GIFTS. The unique designs and inspirational messages are perfect for every occasion, all year round – truly, "works of art" to be enjoyed every month of the year.
Each is an elegant "Gift with Meaning"™ accompanied by a heart-and-soul-stirring inspirational message. The PASSAGES collection features designs rooted in poetry and literature and reflect such themes as love, friendship, pursuing one's bliss and strength of purpose -- themes that have inspired poets and authors through the ages. The SACRED SEASON collection takes its inspiration from Scripture, as well as spiritual symbolism found in Medieval and Renaissance art.
Each piece is individually and entirely handmade, from start to finish. It requires approximately one week to create one design, from blowing the glass to the final "drying time" after the last coat of lacquer is applied. Every design has a tag with a gold hanging cord, and is presented in an elegant custom-designed gift box with a free display stand and an inspirational message card.


NEW BEGINNINGS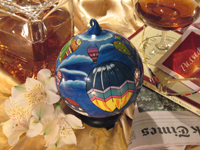 Born of a "spiritual awakening" that was sparked by a painful divorce, SACRED SEASON was the first product line created by company founder Mary Margaret Cannon, making its debut at the Atlanta Gift Show in January of 1997.
In just 18 months, Mary Margaret Cannon discovered that the market reach for her innovative work was extensive, winning customers across America – even receiving just one of only Six "Rising Star" Awards from Disney, at their First Annual Christmas Collectibles Convention at EPCOT in 1998.
Yet the lure of other investment opportunities in 1998, proved too tempting for her angel investor – and Cannon lost her start-up funding just days before losing her house to her former husband.
Devastated – yet still hopeful, Cannon spent the next 25 months trying to resurrect SACRED SEASON while moving between different friends for shelter and at one point staying at a Franciscan convent. "I knew the reaction to the ornaments was so powerful that I had something special. I just couldn't give up." Today, the designs are carried by high-end gift shops and specialty stores, and the company has a robust business online. Mary Margaret has also received recognition from various organizations and media outlets.
The long-anticipated PASSAGES collection makes its debut in 2007 – rooted in great poetry and literature from around the world, and Cannon's childhood memories of learning poetry at her Mother's knee.
Mary Margaret's ongoing experiences and inspirations continue to build her dream of creating memorable and timeless gifts, which are imbued with tender yet significant messages of peace, love, joy, and hope.


CELEBRITY FOLLOWING
SACRED SEASON ornaments are in the collections of many notable people, including: On display in a Vatican Museum (presented to Pope John Paul II in 2004), former US President Jimmy Carter, United Nations' Secretary-General Kofi Annan, and many entertainment celebrities, including: Leeza Gibbons, Candice Bergen, Debbie Reynolds, Teri Garr, Martin Mull, Stephen Collins, Faye Grant, and others.