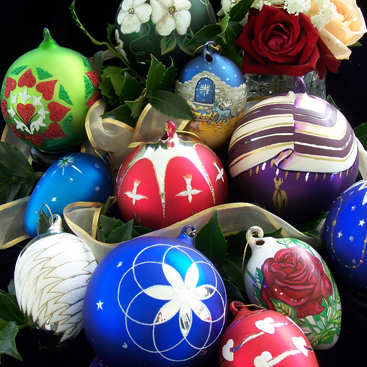 Christmas Trees & Christmas Tree Ornaments
OH yes, everyone automatically "thinks Christmas" when they see our beautiful SACRED SEASON globes & eggs - which is only natural, since they do have a hook on the top! Of course SACRED SEASON is indeed perfect as a Christmas tree ornament, plus, it literally keeps Christ in Christmas.

Take note of the gold cord that comes with every ornament. Approximately 4" long, we think it suspends the ornament perfectly "between the branches" so that the entire design on the globe is visible.

We've also used the ornaments on all sizes of trees - even 3' table-top trees - and you will be delighted to see that the scale of SACRED SEASON "fits perfectly" with every size tree & that every piece of the entire SACRED SEASON collection compliments each other.

Take a look at a wonderful book published by DK Publishing: CHRISTMAS STYLE - and see how the celebrated Dr. Christmas team of Bob Pranga and Debi Staron have used SACRED SEASON to decorate celebrity homes & more for Christmas! Click here.
« BACK TO LIST